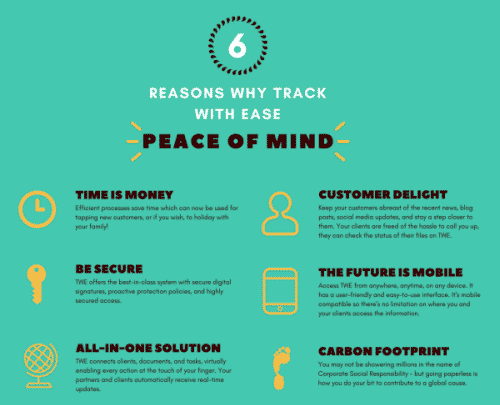 On onboarding a new client, often small businesses, realtors, lawyers and independent consultants fail to realize that managing an exhaustive clientele eventually becomes a cumbersome effort! The closure of a deal is only the beginning of other workflows and processes which follow. As days pass, you crave for the ultimate bliss – a peace of mind. If we were going to tell you to switch your transaction management processes online, you might think, are we big enough already? Aragon Research predicts that by 2017, 65 percent of enterprises will retire legacy paper-based processes in favor of those based on digital transaction management. Going digital in the 21st century isn't an option, it's a must! Digitizing the workflows and assets not only aids you to stand at par with the competition, but it also helps to keep your clients delighted. Moreover, you save ample hours to plan your next vacation.
Here's how TWE assures the peace of mind.
Time is Money
Efficient processes save time which can now be used for tapping new customers, or if you wish, to holiday with your family! Clients save as much as 1.2 hours per day on the manual task of sending emails to people, translating to six hours a week. Now, sending emails is only one of the many processes that you will automate. Let's say, if you save 24 hours in a week, you save four days in a month. Isn't this getting exciting already?
Be Secure
Everything I upload on TWE will be stored in the cloud. But is my information safe? As an agent, you are always worried about the data and the potential leak of your customer information. We understand your concern, and therefore we have devised the best-in-class system with secure digital signatures, proactive protection policies, and highly secured access. E-signatures is our forte, and we have made it easier than sending an email! TWE lets everyone e-sign documents with ease.
All-in-one Solution
TWE connects clients, documents, and tasks, virtually enabling every action at the touch of your finger. You don't need to search for a file or contact anymore! Plus, you can collaborate with your clients on file from start to finish. Quickly turn comments, questions, or to-do lists into tasks for others to do and stay informed. Your partners and clients automatically receive real-time updates.
Customer Delight
Keep your customers abreast of the recent news, blog posts, and social media updates, and stay a step closer to them. Your clients are freed off the hassle to call you up. They can check the status of their files on TWE.
The Future is Mobile
Access TWE from anywhere, anytime, on any device. It has a user-friendly and easy-to-use interface. It's mobile compatible, so there's no limitation on where you and your clients access the information.
Reduce Carbon Footprint
TWE digitizes the workflow and assets, therefore, reducing paper consumption to leaps and bounds. You may not be showering millions in the name of Corporate Social Responsibility – but this is how you do your bit to contribute to a global cause.
---
Other blog posts