Usage of software accounts for biggest gap between law firms in terms of preparedness, business continuity, and anticipated negative impact on the firm.
 As widespread shutdown and social distancing orders are put in place across the country most, if not all real estate law firms would need to shut their doors as a "non essential business" with staff required to stay home, as law firms/professional services business don't fall into the exempt categories of businesses that can remain open.
To assess expected impact and operational disruptions relating to Coronavirus, Track With Ease, Inc sponsored an industry survey of real estate law firms to assess current sentiment.  Respondents were primarily owners/partners 1-50 person headcount real estate law firms where property law and transactions made up 70-100% of their practice.
A snapshot of the respondents: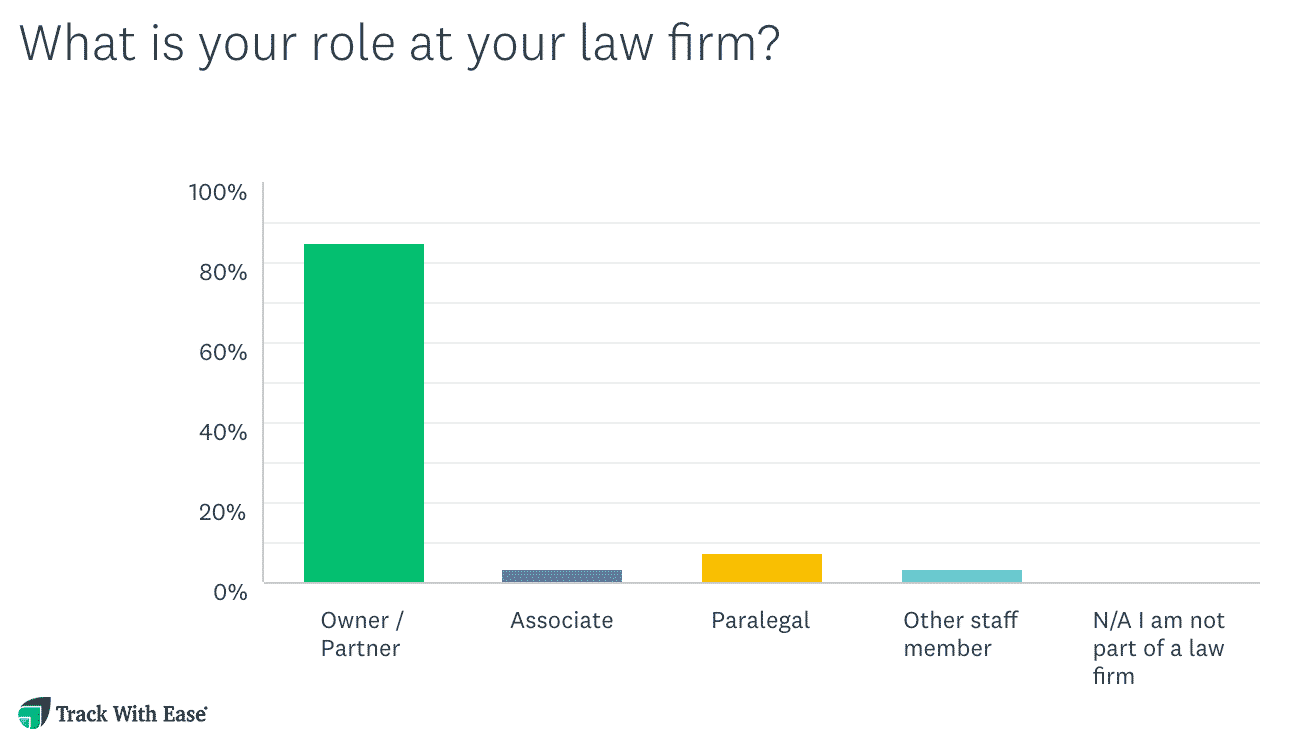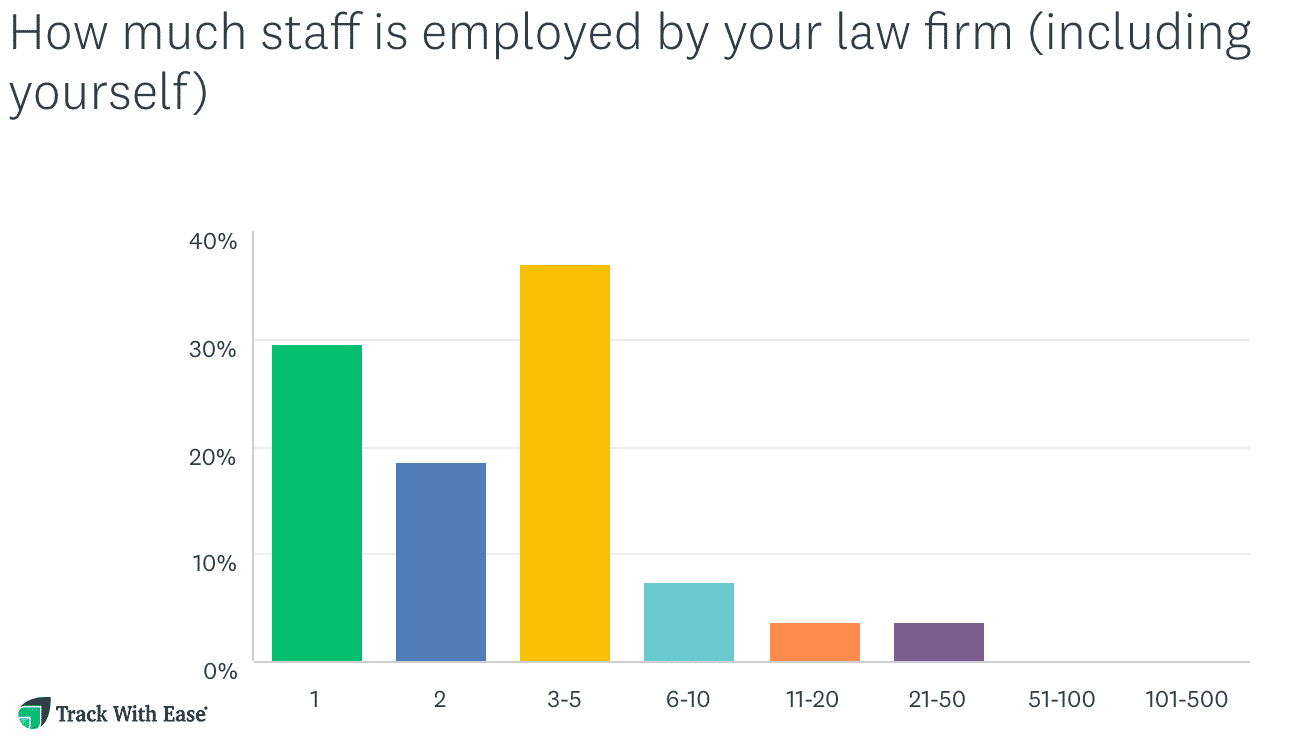 Overall, the findings revealed a large gap between firms which understood the need to adopt technology to get organized and prepare for remote work, as compared to firms which were not prepared.
 Key Findings:
70% of Real Estate based Law Firms are NOT prepared to shift to remove working arrangements and most intend no to minimal change in their office routines as a result.
Of those firms 67% expected it likely their staff might catch Coronavirus.
30% of law firms reported being fully prepared to shift to virtual work for all staff.|
Among those prepared firms 100% used a real estate transaction management software for their law firm to enable them to stay organized and access all their key files, documents, contacts, and communications remotely.
Of the prepared law firms 62% expected if "very unlikely" their staff to catch Coronavirus, due to being able to work remotely versus having to physically stay in a crowded office.
41% of law firms already reported having conversations with clients about cancelling transactions or expect to do so within 30 days.
For all law firms across the board, 87% expected reduced number of clients and referrals, with 75% reporting it "very likely" to see reduced fees and revenue for the next 6 months.
However, those firms which did not use software and were not prepared for remote working, reported 5X higher expected negative impact from the Coronavirus compared to more tech-savvy remote-enabled firms.
Discussion:
Coronavirus Disruptions to the Traditional Law Firm "in the Office" Model
 One thing that nobody can argue with is the COVID-19 outbreak is already disrupting the working habits and services of law firms particularly when it comes to real estate and property law.   Another thing most attorneys would agree with is that the practice of real estate law is a unique animal, in that it is extremely fast paced, demanding, and requires intense and careful coordination between numerous parties.
Normally delays or lapses in responses by the real estate attorney lead to anxiety on all sides and can negatively impact clients and sour referral relationships. However in the face of office closures due to COVID-19 and law firms being unprepared to work remotely outside the office, these delays can spiral out of control and quickly lead to a law firm actually being unable to serve its clients properly in a timely manner if it depends on being physically in an office.
Changes in Working Habits:
 The simple fact that most real estate law firms and attorneys are used to the traditional office working environment where everything is physically stored in one place, and staff come in to work together – and almost overnight this type of working arrangement is either under threat or outright banned in some cities via "stay at home" and "shelter in place" orders.
If there ever was a time for an industry to become more tech savvy to adapt to serving clients in uncertain times, this is it.
Now one thing lawyers may disagree about is how long this disruption will last, and whether they need to make any adjustments to ensure their ethically mandated duty of care for clients is not compromised.
Most Firms Unprepared:
 The industry study of real estate attorneys and law firms has found that 70% of firms self-admittedly are unprepared to deal with effects of the COVID-19 outbreak, or to maintain the uninterrupted service for their clients through remote working due to an over-dependence on staff and files the physical office.
The study also found the use of real estate transaction management software for law firms as responsible for a gap between unprepared firms, and those which felt ready and anticipated the least impact on their operations.
Given that the primary methods of COVID-19 containment are isolation and avoiding contact especially in enclosed office environments -- a law firm's ability to seamlessly shift to remote working arrangements is essential to guaranteeing client's welfare.
However, in terms of preparedness 1 in 3 firms reported being completely unprepared to do any work outside their physical office, with another 40% being only "somewhat prepared".  Just 30% of all law firm respondents considered themselves ready, due to implementing law firm transaction management software to run their office virtually and enable access their documents, forms, contacts, communications, dates, and other important information from anywhere.
Just 30% of firms reported being fully prepared to work remotely, while a combined 70% are not prepared or only "somewhat" prepared: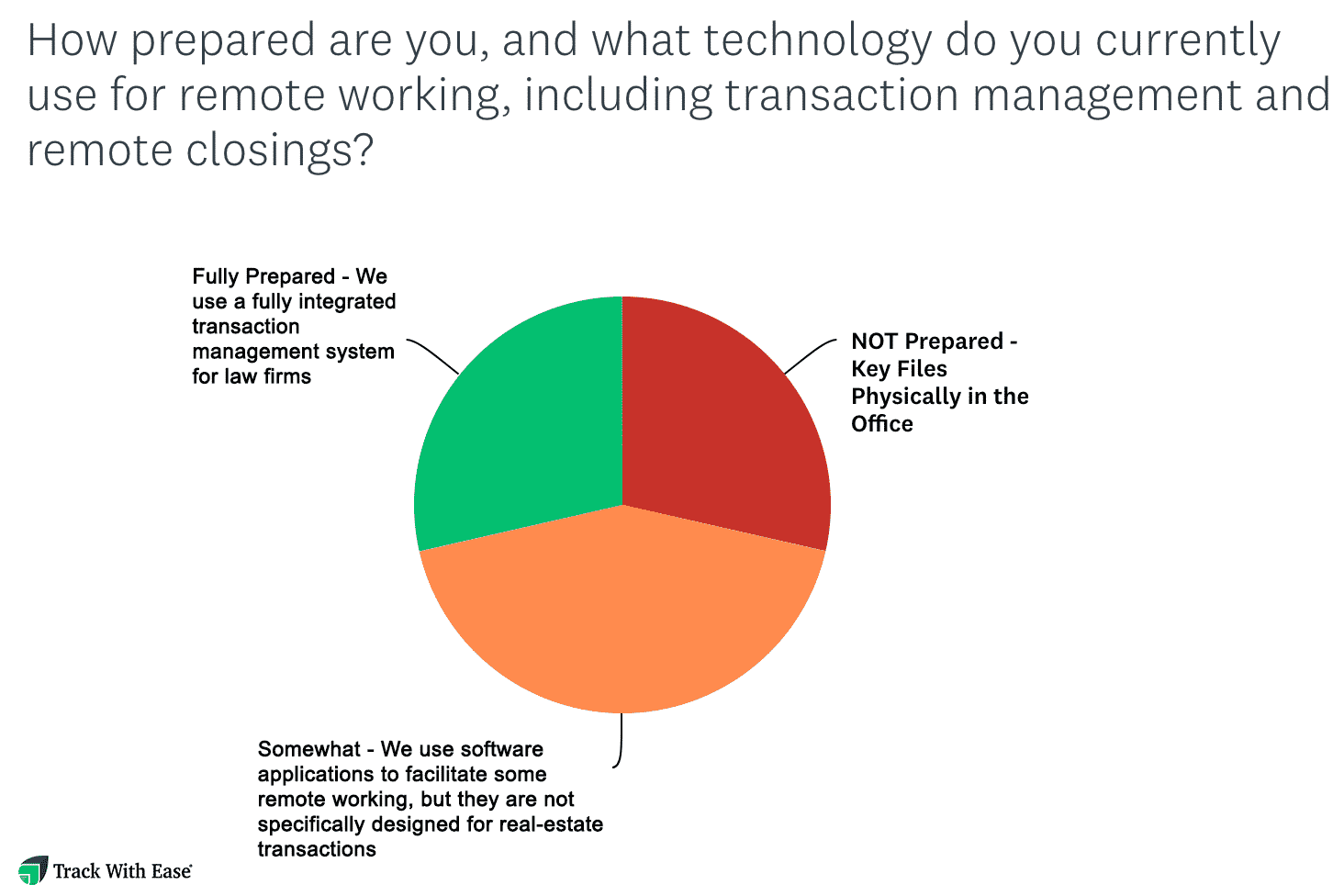 Most law firms planned to work in the office as usual, with just under 20% planning equal work in and out of the office. Of the firms which planned to shift to 100% remote work, all were enabled using specialized law firm software: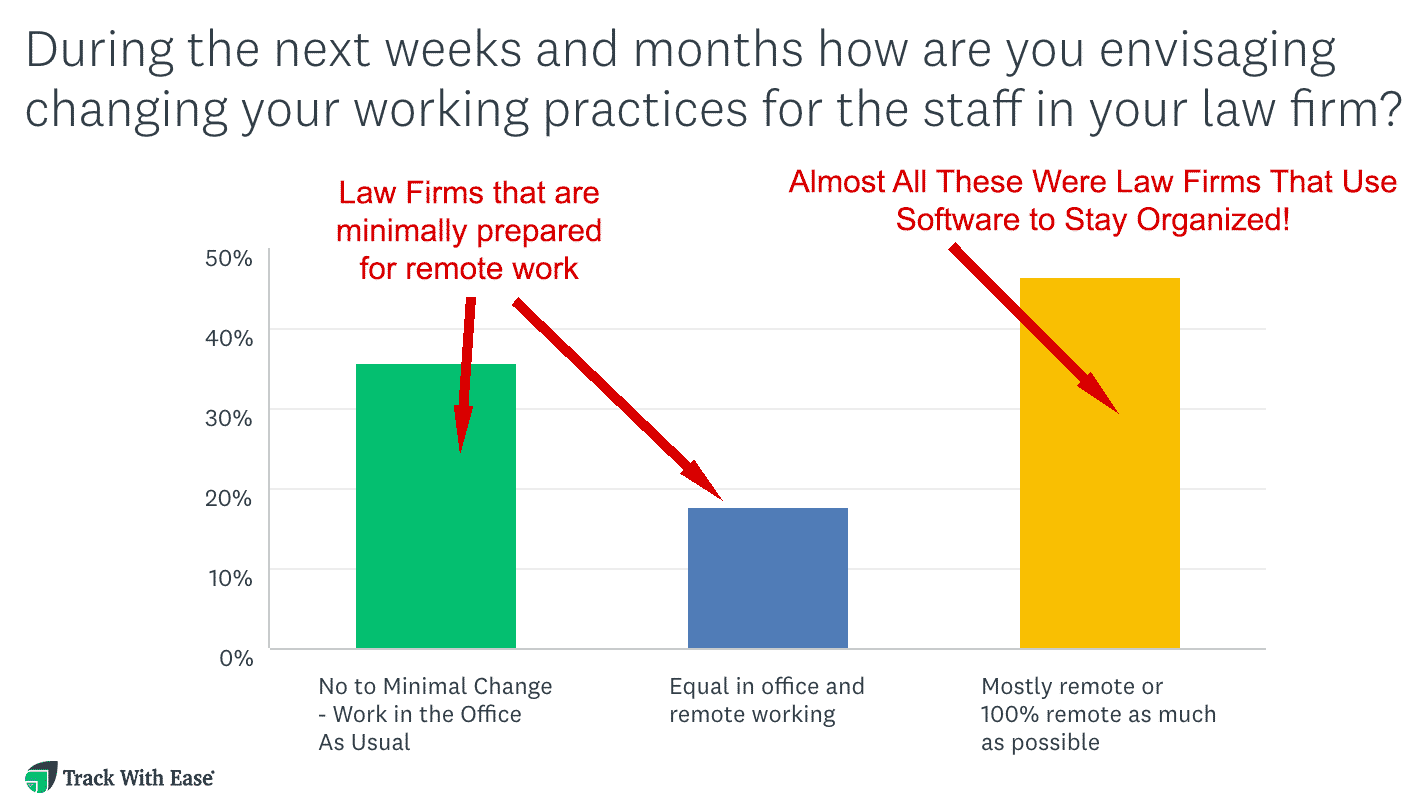 Of those remote-enabled firms, 62.5% already planned on mostly or 100% virtual working for their staff, with only 12.5% planning on equal in office and remote working.
Technology is the key differentiator:
In terms of the safety and protecting the lives of their staff, remote work arrangements led to 62.5% of the tech savvy firms feeling it "very unlikely" that their staff would get Coronavirus since they wouldn't be required to come into an office to get things done.
Shockingly, the study found that for law firms not using any specialized software – 42% planned on either "minimal" or NO changes and continuing "working in the office as usual."  Another 21% planned to be in the office at least half the time, with just 10% saying they would try to have everyone work virtually.
Without commenting on the social responsibility of still requiring staff to work in an office amidst the COVID-19 outbreak, in terms of health and safety of staff 67% of these non-remote enabled firms reported it "somewhat likely" their staff would get sick with COVID-19, with 11% saying it was "very likely."  That is considerably higher than the software-enabled firms which anticipated a smooth shift to virtual work and did not require their staff to congregate in an office.
Furthermore, the gap between law firms not using software is more evident in terms of projected negative impacts from Coronavirus being 5 times greater -- 63% expect "high" to "very high" negative impacts, whereas among the software-enabled firms only 12% anticipated "high" to "very high impact," with 75% expecting a more measured "moderate" impact.  A possible explanation is that the real estate firms using transaction management law firm software already are more organized and streamlined in their work, and expect less interruptions associated with shifting locations outside the usual office.
In terms of long term expectations -- anticipating a potential downturn, 90% of real estate firms expected a considerable negative impact on their practices over the next 6 months.  Of all law firms 87% expected reduced number of clients and referrals, with 75% reporting it "very likely" to see reduced fees and revenue for the next 6 months.
What Your Law Firm Can Do to Prepare for Remote Working
Shifting to remote working arrangements for a law firm, especially one that is "old school" may seem like a daunting task but it doesn't have to be.
They key is to get organized and streamline everything in one place online.  Even law firms that don't thing they're "tech savvy" can quickly adapt and get their staff and operations working 100% virtually.
Even closings and notaries can happen remotely in response to social distancing mandates, or anxious clients who would prefer to avoid sitting in a tight room around a closing table passing potentially infected documents back and forth for signature.
Most law firms depend on coming to an office because the following things are stored on computers that are physically in the office:
Paperwork, contracts, other documents
Notes on clients, intake forms, and notes from staff
Checklists and workflows keeping track of status of each tile
Contacts and contact lists
Closing paperwork such as CDs, Deeds, etc
Copies of checks, wires, etc
Copies of signed retainers and other forms
Email and communications stored on office computers
Past closings and archived files from years ago (often in other storage locations as well)
Fortunately, all these things and more can be moved from the office to the Cloud, to allow access anywhere for law firm and staff with the right software.
---
See How Law Firms are using Track With Ease to Work Remotely and Increase Efficiency:
Track With Ease is specially created specifically for real estate law firms and transaction coordinators as an end-to-end online transaction management platform – that is it handles everything from contract to closing that a real estate law firm encounters.   Additionally, it helps streamline everything in one place to save valuable time, earn more profits, and increase client satisfaction levels by providing a more efficient and communicative service.
Request a demo for your law firm to see how Track With Ease enables any real estate attorney to work remotely and even more efficiently than ever before.
Click the button below for a demo:
---
Educational Webinar:
 "Running a 100% Virtual Real Estate Law Firm"
Originally aired on Monday, March 30th 2020 at 6:30pm Eastern Time