Do you still not believe that the right real estate Lawyer Software will allow you to win more customers and increase satisfaction?

This article may be a rude awakening to some real estate lawyers.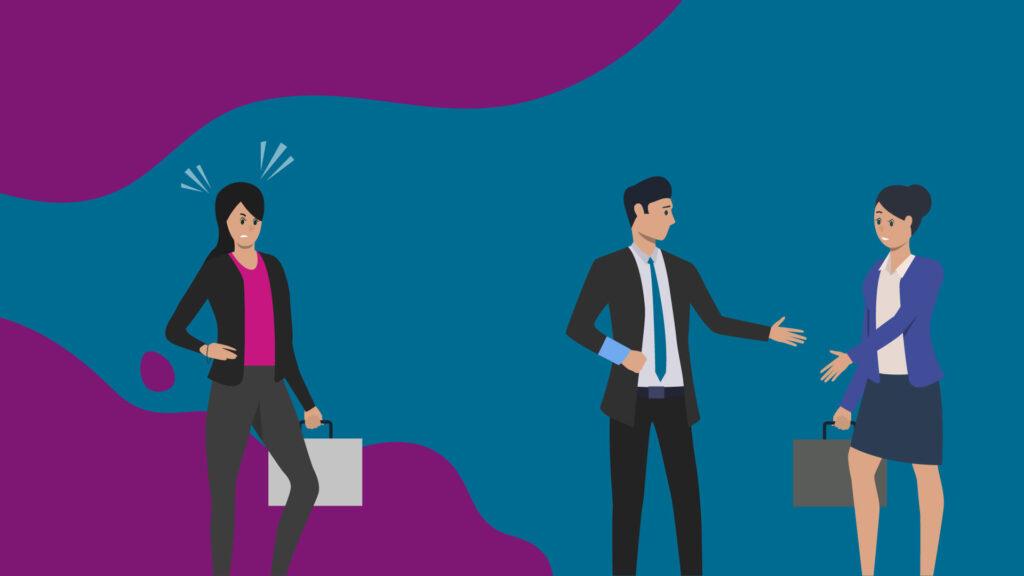 If you think all those Realtor agents who have been regularly referring clients to your real estate law firm are going to just always keep doing that…. you might be in for an unpleasant surprise.
The truth is that most real estate lawyers greatly overestimate the loyalty of the agents who are referring business to them in the form of buyer and seller clients. Most attorneys mistake the professional friendliness they've developed with real estate agents through the years over a number of closings, to be some kind of profound deep relationship with that agent which will ensure referrals for life.
The stark reality is: except for a few true friends you might have in the business, almost all agents are actually referring their buyers or sellers to you right now… wait for it…. simply because they just haven't found a better attorney yet, or someone whom they perceive as being more efficient, quicker, and easier to work with than you.
The moment they do, they'll start to refer business to the other law firm. It may start with just one client here or there, and eventually grow to all their clients.
That agent you thought was your friend? They're not really your friend like that.
Make no mistake... when real estate agents have a signed contract in their hand between buyers and sellers, they're already mentally anticipating their commission payouts and their goal when choosing an attorney referral is usually to pick someone whom they perceive as able to get them to the closing table, and their commission check, as smoothly as possible. Not necessarily the lawyer who has the most expertise in property transactions.
You may be the best, most knowledgeable real estate lawyer in the State and chair of the Bar Association's sub-committee on property law, but the traits of what a Realtor perceives in a "good lawyer" and what lawyers perceive as criteria for being a "good lawyer", are often totally different.
What do Realtors and clients want from real estate lawyers?
They want speed. And good communication.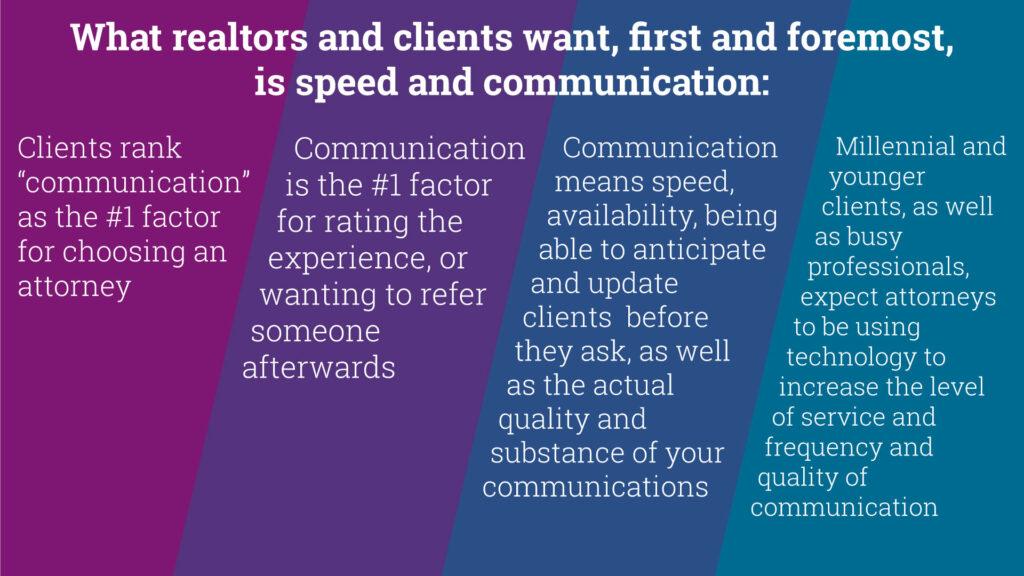 They want to feel like you're available. They want to feel like you're on top of everything and taking care of it.
They even want to feel like you can telepathically sense when they have a question about their transaction and for you to automatically update them before they even text, email, or call you for info.
But that doesn't sound realistic though, does it?
After all, there's so much to do in your law office every day, how could any attorney, or any human being at all possibly provide that level of service that some of these people expect while still juggling everything in your busy real estate law firm?
You might be surprised to know that with real estate lawyer software it's possible to be the perfect communicator realtors expect you to be.
And there's already a number of attorneys that have adopted real estate lawyer software to deliver that level of service and communication to their clients and agents.
Wake up to the fact that you are losing business to more efficient law firms who are using real estate lawyer software.
The savvy Law firms are those using technology to provide such an outstanding experience that they're rapidly taking referrals and clients away from less efficient law firms who aren't using technology… including potentially your own.
We already know that what both realtors and clients want, first and foremost, is speed and communication.
There have been lots of industry focus groups and studies done on this, but they can be summarized as follows:
Clients rank "communication" as the #1 factor for choosing an attorney.

Communication is the #1 factor for rating the experience or wanting to refer someone afterward.

Communication means speed, availability, being able to anticipate and update clients before they ask, as well as the actual quality and substance of your communications.

Millennial and younger clients, as well as busy professionals, expect attorneys to be using technology to increase the level of service and frequency, and quality of communication.
And consistent "good communication" is exactly what most real estate law firms are bad at, for a number of reasons including just being overwhelmed and too busy constantly putting out fires and juggling many closings at once.
Lawyers are usually bad at communicating, but real estate lawyer software will actually make you good at "communicating" without you having to do anything extra.
Most lawyers think they're at least "OK" in terms of customer service and communication, but the statistics about the legal industry as a whole say otherwise? Studies have shown that in terms of a "Net Promoter Score" (a measure of how likely someone is to recommend a business after using it) -- people are less likely to recommend lawyers to their friends than they are Airlines or Car Rental chains… two industries that are notoriously cringe-worthy in terms of customer service. In terms of Net Promoter Score Lawyers overall rank very low, on par with Wireless carriers and credit card companies in terms of how people feel after dealing with them...that's pretty bad.
Most realtors and clients have resigned themselves to poor experiences and mediocre communication from their real estate law firm, simply because they haven't found something better yet, and assume that's the way it is.
But that's all changing with law firms using law firm software for transaction management and to improve the experience of clients they deal with. And attorneys who don't want to get on board the technology train will start to see a rapid decline in their client base to these more efficient law firms.
How to get more referrals and clients using real estate lawyer software, so you don't lose business to other law firms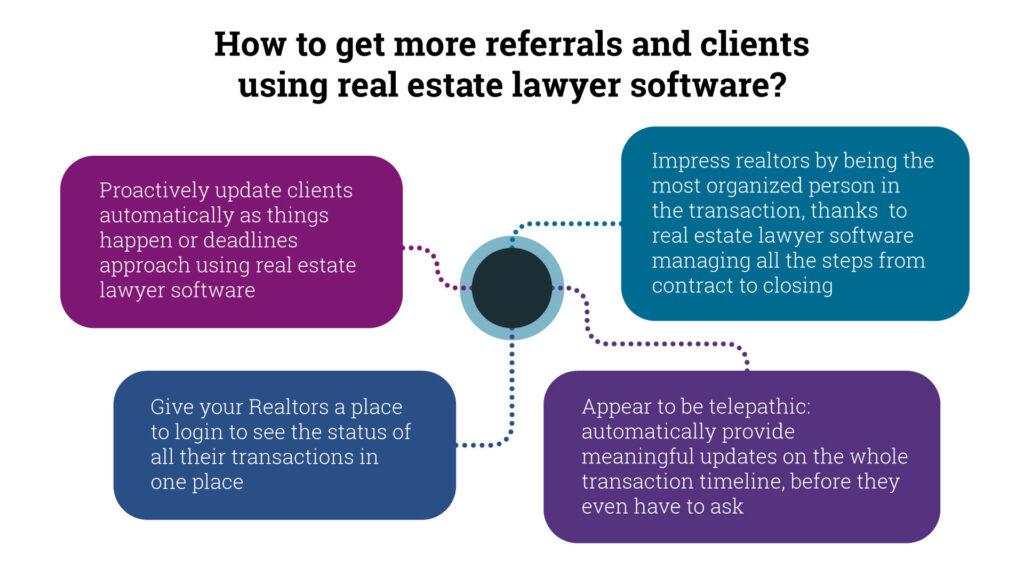 Real estate law firm software can transform a law firm that's overworked and overwhelmed and falling behind on communication, to actually being exceptional at it, without having to do any extra work.
How is that possible? There are 5 things real estate law firm software can do for you in terms of transforming the way people interact with and perceive your real estate law firm.
Improving these areas of your practice can absolutely delight and exceed everyone's expectations while you're handling their real estate transaction and closing, so they want to refer you more business instead of sending it elsewhere:
1. Proactively update clients automatically as things happen or deadlines approach using real estate lawyer software
Imagine if clients and realtors stopped interrupting you all the time to get status updates because they already knew the answers automatically. How much time would that save?
"What's happening with my closing?" is probably the most common thing that you hear as a real estate lawyer, and often one of the most frustrating. That's because you're so busy handling everything and putting out fires that updating people the way you want often falls to a lower priority on your list of things to do.
The truth about being in a real estate law office is that you will never have enough time to communicate with people as much as you want -- or as much as they want. As tasks and closing deadlines keep piling up – most real estate attorneys seem forever doomed to stay behind the ball and playing catch-up when it comes to communicating and the oh-so-subtle art of massaging client relations.
All that changes with real estate lawyer software which enables you to actually be more communicative, while not spending any extra time on doing it.
You'll get the same benefit as if you hired 2-3 full-time people, whose sole job is to do client relations and keep people updated.
The idea behind real estate lawyer software for managing your transactions is that you can precisely deliver the updates people need, at the exact time that they need it, without you or your staff having to pick up the phone or write an email. The software can be configured to do all that for you.
TrackWithEase real estate lawyer software allows you to automatically update everybody about each step of the transaction, in real-time, and without you or the clients needing to do anything extra. You can choose who you give access to, including your buyers, sellers, Brokers, or anybody else who needs to get updates. You can then let them be automatically notified as your office completes certain tasks, as well as when deadlines are coming up, or if things which were expected from others are overdue or falling through the cracks.
You can also easily update people on the entire transaction timeline with one-click to let them see the overall schedule to closing, what is completed, and what is still pending, which is very impressive for agents who are used to working with disorganized and non-communicative attorneys.
The added benefit is that your Law Firm is perceived as being extremely competent and organized since there are real-time updates happening across the board to all the different parties, which has does a lot to give the Realtors increased confidence in your services.
2. Give your Realtors a place to log in to see the status of all their transactions in one place
The next important consideration is how to efficiently update a real estate agent who has multiple transactions with you.
If you are fortunate enough to have real estate agents that refer several clients to you at once, updates become a bit more complicated, since at any given time they call, you need to be ready to update them on the status of all 5 files you're doing with them, otherwise you might appear to be not on top of things. You need to show them special care and attention in terms of keeping them informed, but you also need to avoid spending too much time because there's so much other work to do.
TrackWithEase Real estate lawyer software helps update agents on all their transactions simultaneously, by providing an easy "self-care portal" where real estate agents, as well as your clients, can actually log in and see more detailed views and status info on their transaction 24/7, without ever having to bother you.
This creates a strong feeling of reassurance for everyone knowing that whenever they want they can get an update, they can just see it online 24/7, instead of worrying about catching you on the phone. It also makes agents respect your time more because they will hold back on the emails and your phone calls for more important things that actually require a conversation, as opposed to a routine status update which can be communicated via the self-care portal or the automatic updates.
3. Impress realtors by being the most organized person in the transaction, thanks to real estate lawyer software managing all the steps from contract to closing
To appear very organized to real estate agents and clients, it's important to have a workflow and a roadmap planned out for the transaction from contract to close, and give them the ability to see this roadmap and where things are at any given time
Additionally, being organized means having all the minute details of the transaction, such as purchase price, contingency dates, deposit amounts, and due dates, and everything else, all at your fingertips whenever somebody asks you. With real estate lawyer software, all this can be instantly pulled up at the click of a button, similar to the way a phone company pulls up your account when you call customer service. This makes you appear extremely sharp and on top of the details of transactions instead of fumbling around for info in your inbox or saying "I have to get back to you"
This is especially important when you're working with real estate agents that have referred more than one buyer or seller client to you at a time. When they call for an update about one transaction, they're next going to ask you about all the other things you're working on with them at the same time.
Unless you are using real estate lawyer software it's often extremely difficult to have all the details of everything available at your fingertips, this is especially true if things are delegated to your staff members who are in charge of the details.
With real estate lawyer software, you can actually pull up instantly all the details associated with a particular contact, or a particular real estate agent, and see what's going on with all the transactions that they have referred to you in real-time. Everything from the purchase price, to deposit, to key dates and contingencies -- all that is available with the click of a button while you're on the phone with someone, as opposed to needing to open up your email inbox and wade through conversation threads to try to find attachments and contracts to pull up the relevant info, while the agent waits on hold.
If you have all the info in handy you'll impress them, in sharp contrast to other law firms they've worked with, which typically respond to detailed questions with "I don't know let me check and get back to you."
4. Appear to be telepathic: automatically provide meaningful updates on the whole transaction timeline, before they even have to ask
There's a joke amongst real estate attorneys who grumble that clients and real estate agents expect the lawyer to be telepathic and know when the clients are getting antsy, and reach out with an update to them before they even ask. Apparently being psychic is the new standard to good communication from a real estate attorney.
Now with TrackWithEase real estate lawyer software, you can do that, pretty much.
You can set up automatic updates to go out at key parts of the transaction, which usually covers most of the expectations clients have about being kept in the loop. However you can go an additional step, and issue a specially generated update on the current closing timeline of the transaction showing what has occurred, and what everybody is still waiting on and – along with the most recent updated dates and projections to closing.
Real estate law firms will typically want to issue these updates at the start of the week on Monday, and at the end of the week on Friday, to show what's done and what's expected in the future. It's safe to say that most real estate agents have never worked with a real estate law firm that has proactively updated them with a timeline from contract to closing at the start of each week just to say "hey thanks for your business, by the way here's a timeline from contract to closing for each of the deals we're working on!" That is a huge differentiator in terms of communication and it positions your firm as being so on top of things that people don't even have to worry about reaching out to you... they can just rest assured knowing that you are doing the job without them having to check on you.
Contrast that with the current way that most real estate lawyers work, where both the clients and the real estate agent feel that the law firm is sort of a "mystery box"... a place where the real estate contract goes, and nobody really knows what's going on, or when to expect news, until they have to call and ask the lawyer.
Think about it… why would a real estate agent continue referring business to law firms like that, when there are more efficient attorneys already using real estate lawyer software to deliver a better client experience?
If your firm is still practicing in an old, outdated way that does not leverage real estate lawyer software, it's just a matter of time before one of the agents who has been referring business to you ends up doing a transaction with another more efficient Law Firm that's using software to provide better service.
After they experience a better level of service it's inevitable that your referrals will start to be finding their way to other law firms, and you'll be left scratching your head wondering why you're not getting as many clients from some people anymore.
It's not that realtors are going to inform you every time they send another client to a competing Law Firm... It just happens quietly and you never know that you just lost the business to a more efficient firm.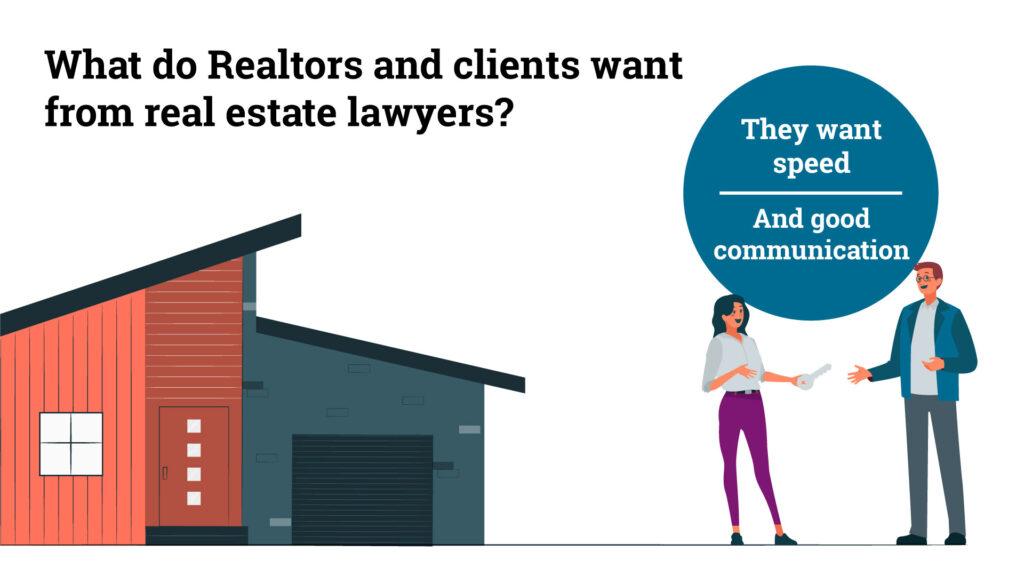 Want to see how TrackWithEase real estate lawyer software will increase your client satisfaction levels and get you more referrals?
Clients and the Realtors who refer them to you expect better & faster communication or they'll leave you bad reviews plus leave you for another law firm.
Now is the time to leverage real estate lawyer software to get organized, save time, and deliver a better level of service that exceeds their expectations so they keep referring more business.
Leapfrog past stubborn law firms who choose to remain stuck in the past ways of doing things without technology or software, just because those processes may have worked just fine for the last decade, but are already slower, outdated, and not what clients want.
Get a free demo of TrackWithEase to see how to save time and make your clients and agents happier with your law firm.
Click below to request a demo: